Year 9 Graphics is a print and digital product that won Best Educational Design at the PANZ Book Design Awards. Excellence in Biology Level 3 received a highly commended in 2010. Both books are published by Cengage NZ, for whom we have produced a variety of books over the years. Most of these are four-colour throughout, with lots of graphs, diagrams and tables, and each brings its own set of challenges. Some creative thinking is always required to fit the material into the compact package, yet they all come out looking fantastic and achieve results. It's a challenge we love.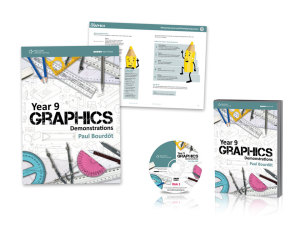 Some educational books we design from scratch, while others may be picking up on an existing design or working in with another designer to complete just one part of the project. Most include a textbook with teachers' resources, or a workbook supplied as an interactive DVD product or a direct link from a website (all we can help design and create .)
We have completed similar projects for publishers around the world. The NZ dollars makes our rates very cost effective. Our team believes in strong communication and can offer a variety of tracking reports for peace of mind service along with adaptable file management to fit into your production system.