Lots and lots of changes
It all started with a 7.1 earthquake, about a year ago.
Once Kim, Trisha, Anita and Sarah had picked up all the broken glass and tried to wash to the floors without water and power, dug out all the liqua-muck it was time to start thinking about work again. Lucky Maria missed the initial shake, as she was in Auckland.
At first no one felt safe to go anywhere. Sarah had no sewerage, Anita didn't have any power or water, Trisha was majorily shaken. Actually everyone was majorily shaken with earthquake-brain or head-fog becoming a common phrase. The first step was to see that the studio was still a safe place to be, after all it was to become the venue for a number of major shakes after this.
Kim cooked us all lunch and we shared a few wines and our stories. Then we slowly drifted back for short periods of time as we were ready. Maria came home and confidence began to grow again. Everyone agreed that work kept them sane. It was a regular routine with our fantastic clients that still wanted their projects completed. We even expanded with Anna Golden (nee Hutchinson) joining our team.
Then came February. Three very terrified ladies all standing in the middle of the studio holding onto one another while the earth kicked and bucked. Kim was downstairs at the time and remembers just shouting at them all to get down here, just get down now. It was awful. Sarah was at home having only just gotten out of hospital two days before and lucky Anna was away.
But the worst was yet to come. Out here, the valley had gotten off very lightly compared with town and the suburbs where Anita, Trisha and Sarah's homes were. Again dear Maria was very lucky as she lived out west.There was loads of digging of liquafaction this time. Everyone helped each other and Maria took over running the studio for almost a week from her home. The news wasn't good though and everyone's outcomes all stem from what we were left with that day.
Anita McLeod
Fantastic designer of great titles that have gone far (Wonky Donkey, Quaky Cat, Hollie Chips, Beyond the cordon). Started at Book Design in May 2008, left July 2011, destination Perth.
Anita's home was inaccessible in the red zone and when they did get in there the door had been broken down, there was no power or water. They had to leave. Her partners job dramatically changed, her parents home majorily damaged. Nothing left for them in Chc, friends gone, time to see the world.
Trisha Roghan-Smith
Accounts extraordinare, bringer of lunch time entertainment and a good giggle. Started April 2010, left July 2011.
Trisha's home was badly damaged in Feb's quake and they have been told that their house has to come down. Their land is still zoned orange, so they don't know if they can rebuild on the site, it's been 7 months of waiting. Trisha has moved on from us because of the combined stress of home and work all became too much.
Anna Golden
Mac op, book industry expert, passionate reader. Started Jan 2011, left April 2011.
Anna moved to Christchurch from Wellington after the September quake to get married and begin a new life. She got way more than she bargained for after Feb and decided the challenge of learning a new Mac op role was just too much.
Sarah Chaussee
Senior designer of fame with 'You Know You're From Christchurch When' and numerous educational epics. Now based in our Akl studio.
Sarah has had to make some really big life changing decisions and we really, really didn't want to loose her too. If you have spoken with Sarah on the phone you'll have fallen in love with her American accent, so the thought of relocating again to a new city was a very hard one for her. But now she's there, may it just keep on getting better and better.
Maria Engelken
Junior designer and hero. Survivor of only one major shake as she managed to be out of town for all the others. Now based in our Akl studio.
It went a bit like this. 'Maria do you want to move to Akl?' 'Yeap, can we go now.' And she has never looked back. We have so much to be grateful to Maria for. Twice in the past year she has kept things running from her dining room with the only power and internet connection in the company. Her fantastic attitude and enthusiasm is making the Akl studio hum. She just rocks!
Kim Dovey
Director, designer, worrier, mother figure, food nutritionalist. Still doing the same thing from the same place in our Chc studio.
Kim was just getting in the car to look at new premises in the centre of Chc when the Feb quake hit, which is why she was not upstairs with us all. It just wasn't going to be a happening thing, but we still needed more space to grow. So the next few months began a totally new ride with many, many challenges. She's still living in Christchurch (her family just won't budge), but will be spending week about in Akl.
… and so we all moved on. Change is good, sometimes you just need time to get your head around it. Auckland is very exciting and we have had a fantastic reception from everyone. I still get a kick every time a client knocks on the door and walks into our studio in Birkenhead. It's just not something that happened often down here in Chc. Hee, hee, very exciting.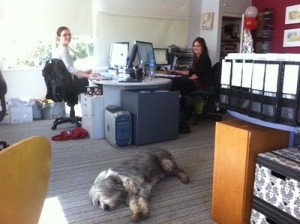 You can see some images of the girls trip to Auckland and all the farewell parties on our facebook page.