Books designed by Smartwork Creative feature strongly in Storylines Notable Books List 2016
Every year Storylines names its Notable Books. We are delighted that four books designed by Smartwork Creative have made this year's list.
The Bold Ship Phenomenal, by Sarah Johnson (Flat Bed)
Hush: A Kiwi Lullaby by Joy Cowley, illustrated by Andrew Burdan (Scholastic)
How I Alienated my Grandma by Suzanne Main (Scholastic)
Cool Nukes by Des Hunt (Scholastic)
Books are always a collaborative effort. As book designers, we work with publishers, authors and illustrators to marry words and pictures, and produce a package that promotes the essence and feel of the book.
In Hush: A Kiwi Lullaby, Andrew Burdan's beautiful, evocative and soft illustrations star on the cover and transport the reader through a traditional lullaby. Titles and text flow through the book, allowing the contemporary Kiwi interpretation to flow. A Maori translation adds depth to the experience for parent and child.
We've always loved working with many authors who wish to publish independently. Sara Johnson's Bold Ship Phenomenal is a great example of a self-published book that really wins; it combines a terrific story and a beautifully simple design package that brings the story alive for young readers. The illustrations for text and cover were developed in collaboration with Deborah Hinde, and the gold foil title and the gold finish of the cover that Sarah chose both hint at the adventure within – pirates, smugglers and, well, a pig. All of these things give the cover that extra touch that invites the reader to pick up the book.
With young adult and junior fiction, it can be a challenge to excite the curiosity and imagination of sometimes reluctant readers. With How I Alienated my Grandma, the type-based cover is complemented by funky illustrations from the story, and we had fun mixing these story elements into the quirky title. The acid green really makes the cover leap off the shelves, just like the sour lollies that kids love.
All of these books were designed by Smartwork Creative's design lead Dana Brown, who brings not only a wealth of international experience to our clients, but also a genuine love for the works.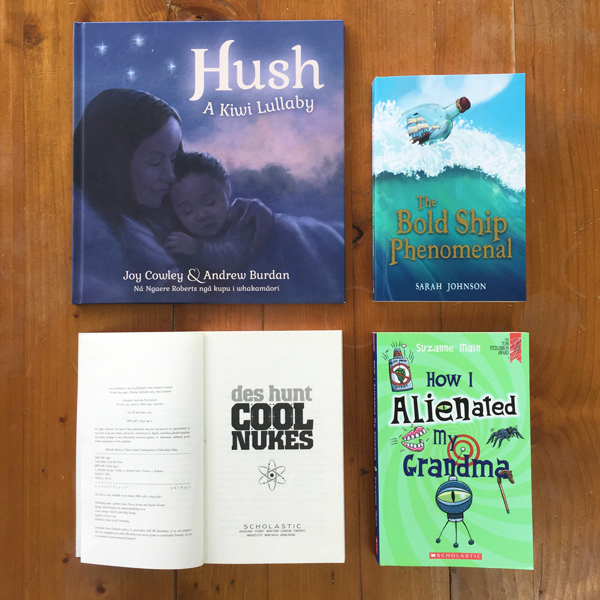 To read more about Storylines Notable Books List: www.storylines.org.nz
Read more about Smartwork Creative on Facebook  and Pinterest.