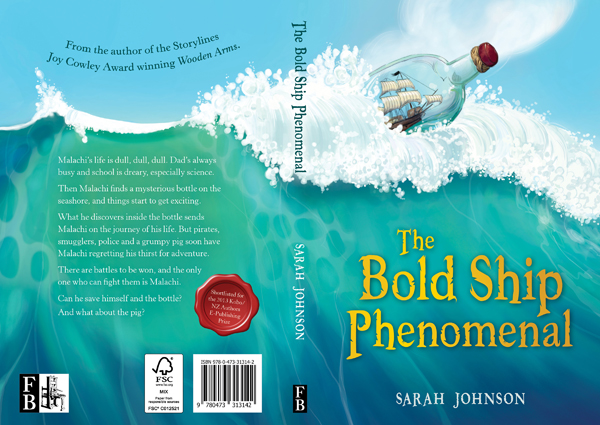 "One of the best parts of being a writer is what happens after you've written your story and set it free into the world. That's when it gains a life of its own and the real magic begins."
INDEPENDENT PUBLISHING
Sarah Johnson
Client: An author of trade and educational books published in New Zealand and overseas.
Product: The Bold Ship Phenomenal, print and ebook.
Sarah came along to one of independent author seminars after having a number of books already successfully sold through trade publishing. We had even designed a few of them for Scholastic. It was getting harder and harder to get books accepted through publishers and she had some ideas that she really thought were winners and wanted to have ago at completing the process herself. Distribution couldn't be that scary – could it?
Our design and production process addresses the distribution issue first. It does sound backward, but if you can't sell your book then do you want to go to the cost of producing it?
Bold Ship Phenomenal has proved to be a winner in the Storylines Notable Books List (Junior Fiction), and with a short listing in the NZ Children's Book Awards for 2016..
The cover design was this books first bold move to success with it's fantastic bright illustration by Deborah Hinde and gold foil lettering. Inside, the headers tie in Deborah's pencil sketches to introduce each chapter. It was a pleasure working with such a well organised author and illustrator in creating the final package. It stands out on the shelf and in ebook stores. Check it out further on Goodreads.